A Compound of Four Octahedra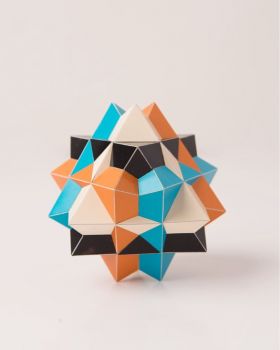 Why are you reporting this puzzle?
This is a compound of four octahedra. It is actually a uniform compound. This means that you could map any vertex onto any other vertex by using one if The symmetries. Since it is a symmetry operation, it would then mean that you map all the vertices on a vertex.

The whole model is clearly surrounded by a cube, though it isn't so clear from this picture, which was on purpose. The compound looks a bit like a crystal, I think. That is why a thought I might use only one colour. Instead I decided to give each octahedron its own colour.

The model is quite easy to build, you will only need to cut and paste 144 pieces.