Katskhi pillar, Imereti, Georgia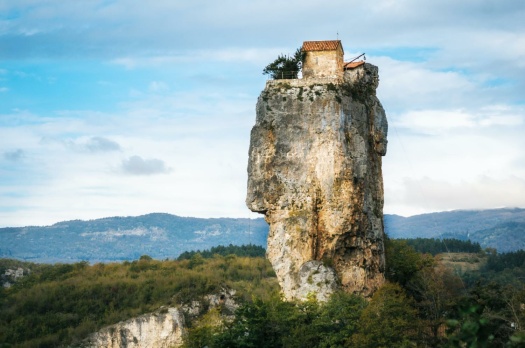 Why are you reporting this puzzle?
The Katskhi pillar you see in Today's Puzzle is located in the village of Katskhi in the western Georgian region Imereti.
The pillar is a natural limestone monolith—40 metres high overlooking a small river valley. And on top (yes, we were getting to that part ☺), you see a rebuilt ancient monastery that dates back to the 9th or 10th century.
According to Wikipedia, the rock remained unclimbed by researchers until 1944 and was only more systematically researched from 1999 to 2009.
The monastery is inhabited by the monk Maxim Qavtaradze
and has been so for more than 20 years. Imagine that... In collaboration with locals and the Georgian government, Qavtaradze has restored the 1200-year-old monastic chapel on top of the rock.
You can read more about
the history of and present life surrounding the Katskhi pillar here
.
How many accounts can a person have on Jigidi?

1 account; or 2 if you have a creative need for a second account - but this requires transparency in your profile descriptions that you hold both accounts. To trust each other and interact with our shoulders down and hearts soft, we all must know with whom we are communicating.

Read more about what to do if you have more than one account on Jigidi.