One Legged Owl!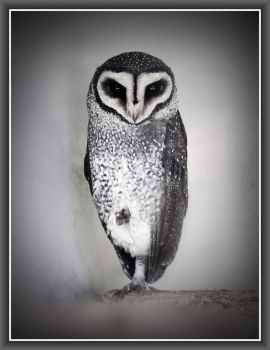 Why are you reporting this puzzle?
Don't worry. These birds have two legs but they draw one up into their feathers and stand on just one leg.

When I visited Peel Zoo (or now Ranger Red's Zoo) on Australia Day, I took photos of many of the birds on display. This is a greater sooty owls (Tyto tenebricosa).

They have white spots on the head and wings and range from 37 to 43 cm in length. The male is slightly smaller and a bit darker than the female. The eyes are large and dark and set in a large facial disk which varies from a dark silver-grey to sooty black depending on age. There is a heavy black edge to the disk. They have a short tail and they have feathered legs. The talons are large and strong.

Sooty owls are not native to Western Australia but are normally found in deep gullies in moist forests in other parts of Australia. They eat tree-dwelling marsupials but also birds, bats and insects. They are territorial and the female rarely leaves the nest once she lays her one or two eggs. The young remain dependent on the parents for food for quite some time after hatching.