Paul Cézanne: Portrait de Victor Chocquet assis (1877)
Paul Cézanne: Portrait de Victor Chocquet assis (1877)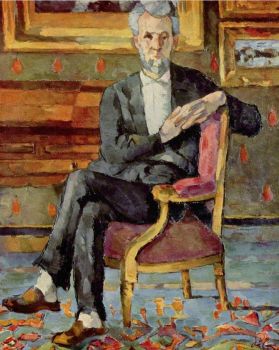 Why are you reporting this puzzle?
(Columbus Kunstmuseum, Columbus, Ohio)

Im Jahr 1875 traf Cézanne den Zollinspektor und Kunstsammler Victor Chocquet, der, vermittelt durch Renoir, drei seiner Arbeiten kaufte und sein treuester Sammler wurde. An der zweiten Ausstellung der Gruppe nahm Cézanne nicht teil, präsentierte dafür im Jahr 1877, in der dritten Ausstellung, gleich 16 seiner Werke, die sich wiederum erhebliche Kritik zuzogen. Es war das letzte Mal, dass er gemeinsam mit den Impressionisten ausstellte. Ein weiterer Förderer war der Farbenhändler Julien "Père" Tanguy, der die jungen Maler unterstützte, indem er ihnen Farben und Leinwand lieferte und dafür Gemälde erhielt.
(Quelle: Wikipedia)

In 1875, Cézanne met the customs inspector and art collector Victor Chocquet, who, through Renoir, bought three of his works and became his most loyal collector. Cézanne did not take part in the second exhibition of the group, but in 1877, in the third exhibition, he presented no less than 16 of his works, which again attracted considerable criticism. It was the last time he exhibited together with the Impressionists. Another patron was the paint dealer Julien "Père" Tanguy, who supported the young painters by supplying them with paint and canvas in return for paintings.

En 1875, Cézanne conoció al inspector de aduanas y coleccionista de arte Victor Chocquet, quien, a través de Renoir, compró tres de sus obras y se convirtió en su más fiel coleccionista. Cézanne no participó en la segunda exposición del grupo, pero en 1877, en la tercera exposición, presentó no menos de 16 de sus obras, que de nuevo atrajeron considerables críticas. Fue la última vez que expuso junto con los impresionistas. Otro patrocinador fue el comerciante de pintura Julien "Père" Tanguy, que apoyó a los jóvenes pintores suministrándoles pintura y lienzo a cambio de pinturas.