VINCENT VAN GOGH. LA BERCEUSE, 1889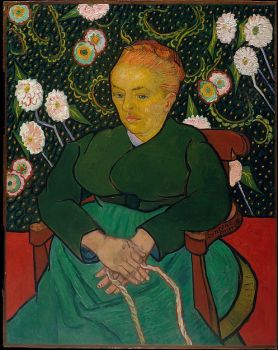 Why are you reporting this puzzle?
Van Gogh painted Augustine Roulin, the wife of Joseph Roulin, in bold, exaggerated colours against a vividly patterned background; the rope in her hands leads to a cradle. At right, the painter inscribed the title "La Berceuse," which means both "lullaby" and "she who rocks the cradle." Van Gogh once wrote, "I want to paint men and women with that something of the eternal which the halo used to symbolize, and which we seek to convey by the actual radiance and vibration of our colouring." This version is in the Metropolitan Museum, New York. Another version is in Boston.