"Gust of Wind with Setting Sun"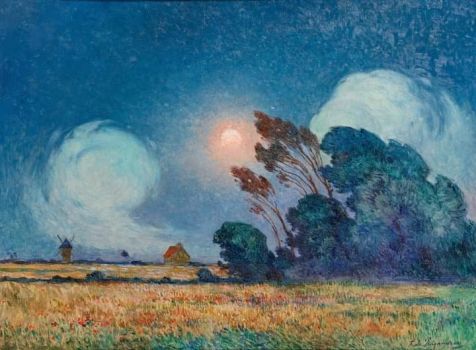 Why are you reporting this puzzle?
Ferdinand du Puigaudeau was a French Impressionist artist born in Nantes. At the age of 18, Puigaudeau took up painting, but did not begin to truly form his own style until he traveled to Tunisia and Italy. His first known works are dated in 1886, the same year that he moved to Pont-Aven where he became friends with Paul Gaugin, Paul Durand-Ruel and Edgar Degas. During this time, Puigaudeau painted compositions of lively merry-go-round scenes and fun fairs.

Puigaudeau was generally a landscape artist, who was talented in portraying light in his Impressionistic compositions. In 1904, he traveled to Venice where he completed more than 50 beautiful Italian landscapes, cityscapes and nighttime scenes. In 1907, Puigaudeau bought the Kervaudu estate where he remained for the rest of his life, and was nicknamed "the hermit of Kervaudu" by his friend Degas. Here, he painted tranquil, sweeping landscapes and Impressionist scenes of his gardens and flowerbeds.