MILLAIS.MARIANA.1851.TATE.Britain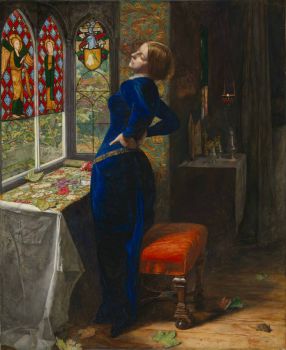 Why are you reporting this puzzle?
When it was first exhibited at the Royal Academy in 1851 this picture was accompanied by the following lines from Tennyson's Mariana (1830):
She only said, 'My life is dreary,
He cometh not,' she said;
She said, 'I am aweary, aweary,
I would that I were dead!'

Tennyson's poem was inspired by the character of Mariana in Shakespeare's Measure for Measure. Rejected by her fiancé, Angelo, after her dowry was lost in a shipwreck, she leads a lonely existence in a moated grange. She is still in love with Angelo - now Deputy to the Duke of Vienna - and longs to be reunited with him.