'Lange Jaap' (dangerous lighthouse in Huisduinen)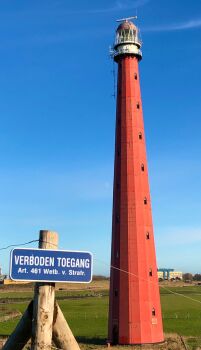 Why are you reporting this puzzle?
Lange Jaap ("Tall Jacob"), also known as Kijkduin Light or Den Helder Light, is an active lighthouse near Fort Kijkduin in Huisduinen, Netherlands. At a height of 63.5 metres (208.2 ft) it is one of the tallest "traditional lighthouses" in the world.[3] For almost a century, from 1878 to 1974, it was the tallest lighthouse in the Netherlands, until the construction of the Maasvlakte Light. According to The Lighthouse Directory it is the tallest non-skeletal cast iron lighthouse in the world.
The site used to be open and accessible to visitors. Due to safety concerns, the tower itself has been closed to the public since 1998. Since September 2021, an area with a radius of 70 meters around the lighthouse is fenced off due to concerns that the tower may topple over.

De vuurtoren Kijkduin, in de volksmond Lange Jaap, is een vuurtoren die net ten noorden van Fort Kijkduin staat in Huisduinen, nabij Den Helder in de provincie Noord-Holland. De toren kreeg in 1988 de status van rijksmonument.
Met een lengte van 63,45 meter is de Lange Jaap de hoogste nog brandende vuurtoren van Nederland (Tussen 1974 en 2008 was dat de vuurtoren aan de Maasvlakte) en de hoogste gesloten gietijzeren vuurtoren ter wereld.[1] De bouw van de toren is begonnen in 1877 en het licht kon op 1 april 1878 worden ontstoken.
How does the notifications system work?

When you hold an account on Jigidi, you will receive notifications when someone tags you, upon a new comment on a puzzle you follow and upon new puzzles from a puzzle creator you follow.