Rocky the Barred Rock Rooster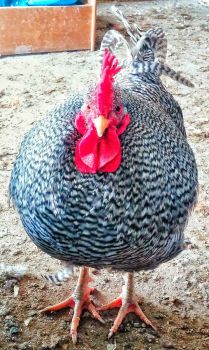 Why are you reporting this puzzle?
Rocky the Barred Rock Rooster is about eight months old. He was part of a trade for Loki (puzzle coming soon), however Loki made it back home.
Rocky has a B personality. He loves his girls and does not mind being second in charge. In fact, when Loki was sick for one night, Rocky didn't even try to take his alpha position, he just checked to make sure everyone was roosting before going back to his old spot. He was definitely 4H show quality (no longer SQ due to Loki....).
Rocky and Loki are quite the dynamic duo in the flock and provide hours of entertainment (they do not fight!).

-Rocky went to a friend whose mother has tons of laying hens. I wanted to keep Rocky's son, Oreo, but they did not get along.
How does the notifications system work?

When you hold an account on Jigidi, you will receive notifications when someone tags you, upon a new comment on a puzzle you follow and upon new puzzles from a puzzle creator you follow.