Darlington Masonic Home - Chapel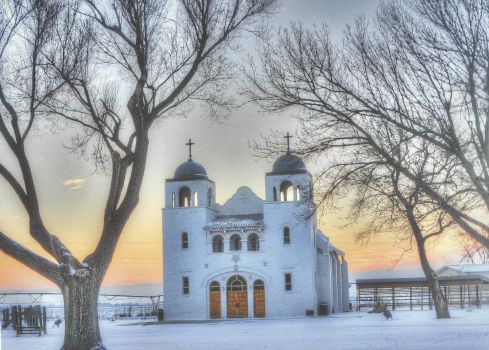 Why are you reporting this puzzle?
Darlington began as a missionary post to the Cheyenne and Arapaho tribes around 1876. There were several houses and buildings at Darlington and it was sold to the Grand Lodge of Oklahoma so the Masons could move their Masonic Home from Atoka to a more central location. The Masonic records show it was discussed and purchased in 1909. The Chapel was built in 1913 after a long time of raising funds by the Order of the Eastern Star. It has been said it was built a quarter at a time. For the first year, it had a dirt floor. The concrete floor was laid in 1914. The Masonic Cornerstone was laid in 1913 with many participants and spectators from all over Oklahoma and other places. Many rode the train to El Reno and then walked the 5 miles to Darlington. Many rode horses and/or buggies. The same Cornerstone celebration was recreated in 2013. And, it was identical to the ceremony of the cornerstone laid at our nation's capital.

When the Grand Lodge moved the Masonic Home and all the orphans and elderly to Guthrie (1923), the property and the chapel were sold to the State of Oklahoma. The chapel went ignored for a few years and then was used as a sign shop for the fish and wildlife dept. for many years. When Redlands Community College acquired the property, it was used for feed and hay storage for the agriculture dept for a brief time.

The El Reno Masonic Lodge and the Redlands Community College Aggie Club partnered on a fund raiser in 2008 or 2009 to kickoff the restoration of the chapel. That effort got the outside restoration started. Other funds came from grants, donations, and so forth to finish all the restoration, including the inside.
Are you curious about how do we review content on Jigidi?

At Jigidi, we celebrate what connects us and steer clear of divisive content because how we meet each other matters. It forms us. When we review the content, we use four 'lenses' and look for what the image or comment is most.