Jigidi Kitty Clan Day of Remembrance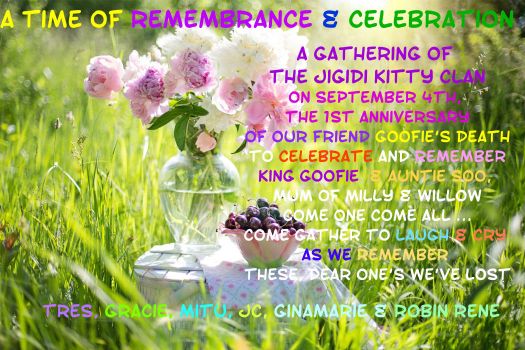 Why are you reporting this puzzle?
The West Texas Kitten Kids are hosting one of our virtual parties ... this time on September 4th the first anniversary of loosing our @Impie special boy Goofie and also to remember & celebrate our special @soo, Sue O'Rorke. If you have not seen tisketsmum's puzzle of soo I invite you to solve this wonderful puzzle. https://www.jigidi.com/jigsaw-puzzle/YXVYC02V/Sue-O-Rorke
So, calling all Jigidi Kitty Friends, come celebrate together, console each other, and to hear my kids talking maybe, just maybe Milly & Willow will sneak off for a little bit & join the celebration.
They say they are looking forward to seeing all their friends.