tis' The Season...
tis' The Season...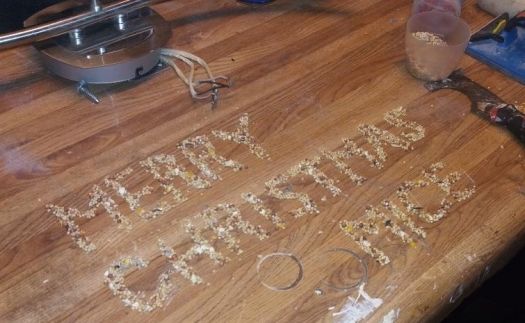 Why are you reporting this puzzle?
Two nights ago, while I was in my little work room hiding from the real world, I noticed 3 mice had taken up residency in my bin of bird seed. When I catch mice, I usually let them gather up a few personal belongings (clothes, makeup, holiday cheese balls), I let them say their 'fairwells" to their friends and then I give them a bus ticket to a nearby vacant lot where they can start a new life with no responsibilities... like pooping on everything, munching on boxes of granola and gnawing through lamp cords. But it's Christmas... it's a time for Peace on Earth and Goodwill towards Rodents... so....

In observance of the Holiday Season, all mouse catching activities have been cancelled. In fact, in keeping with the Christmas spirit, I hand delivered a Christmas message (made entirely of bird seed) to the cute little mice in my work room. Merry Christmas little mice and...

Merry Christmas to All and to All a Good Night!

ps - don't believe everything you read on the internet...
"'Twas the night before Christmas, when all through the house
Not a creature was stirring, not even a mouse"...
well, the mice ARE 'stirring'. They're stirring a big pot of Cream of Spam soup and you are all invited to my work room for Christmas to share in the pot of delicious, homemade Cream of Spam soup (and don't forget to bring your mice...)

Merry Christmas Everyone!!