James R. Hopkins (American, 1877–1969), Kentucky Mountaineer (1915)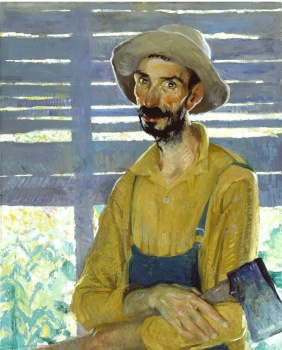 Why are you reporting this puzzle?
Oil on canvas
81.3 x 66 cm (32 x 26 in)

James R. Hopkins studied at the Columbus Art School, then at the Cincinnati Academy of Art with Frank Duveneck. He worked as an illustrator in New York City for two years, then enrolled in the Academy Colorossi in Paris. He returned to the United States to marry Edna Boies, also an artist, and then the couple returned to Paris. They traveled abroad until the start of World War I, when they returned to Cincinnati and James joined the staff of the Academy of Art. When Frank Duveneck died in 1919, James was appointed to replace him as head of the Academy. During his years at the Academy, James and Edna spent their summers in the nearby Cumberland Mountains of Kentucky. Hopkins's honest, respectful portrayals of the Cumberland Falls community make up his most well known series of works.