Vreugde om de 1111ste inwoner van Terpersdurp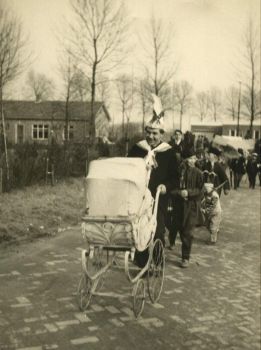 Why are you reporting this puzzle?
Op 11 juni 1963 werd de 1111ste inwoner van Engelen geboren.
De carnavalsvereniging en die niet alleen blijkt uit andere foto's uit het archief, vond het een reden om ouders en kind op bijzondere wijze te feliciteren.
Mogelijk als dank voor dat hartelijke welkom reed de 1111ste inwoner van Terpersdurp, in zijn wandelwagen, mee in de eerstvolgende carnavalsoptocht (die van 1964).
Weet u nog wie die 111ste Terper was?
Ga zoeken in het archief van Heemkundekring Angrisa en u vindt, naast nog veel meer interessant materiaal, het antwoord op deze vraag.
What is the filter for?

Some puzzles are shown behind a filter. These puzzles are within our guidelines but still is material of which some will take great offence. Read more about the reasons and workings of the content filter and how you can set your account up to either see or not see puzzles that are shown behind a filter.