He Hides Q-Tips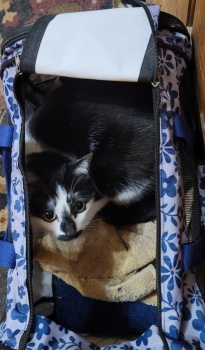 Why are you reporting this puzzle?
In August 2020, my sister rescued a scrawny little black and white kitten that had been dumped on a country road. He grew into this beautiful tuxedo cat. With quirks. Many quirks. Including stashing Q-Tips under the edge of the couch, the edges of rugs, and - my favorite - the edges of doors.

The sis also plays Jigidi and has posted many puzzles of him (betterlatethannever), however, she plays in the 300-400 piece range and is deaf to my requests to post smaller puzzles. So...when she sent me this pic of him relaxing in his cat carrier (one of his preferred places), I decided to take matters into my own hands...bwahahahaha.
More jigsaw puzzles in the cats category