Zucchini balls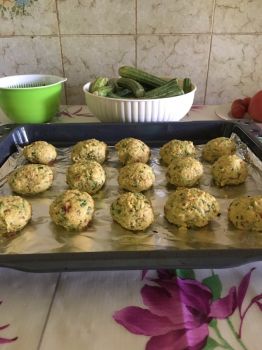 Why are you reporting this puzzle?
RECIPE !

4 zucchini
2 eggs
50 grams light ricotta cheese
10 little dry tomatoes
20 grams grated Parmesan cheese
Breadcrumbs (fine)
Mint, basil, thyme, oregano, sage
EVO oil, salt, pepper

Grate the zucchini in a bowl, add eggs, ricotta and mix.
Chop dry tomatoes and herbs, add them to zucchini and then add salt, pepper, Parmesan and mix again. Then add breadcrumbs until you reach desired consistency, then form the balls and put them on the oven tray and spray a little oil on them.
Cook at 356-392°F for 15-20 mins.

I eat them with some lemon juice on.