Ragged Robin (smaller size)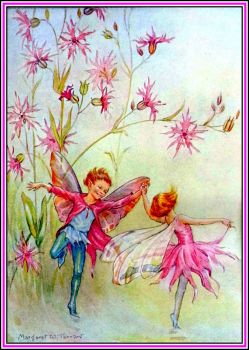 Why are you reporting this puzzle?
One of 16 colour plates from the book 'Joan in Flowerland' by Margaret Tarrant & Lewis Dutton, first published in 1935. This scene depicts two ragged robin fairies dancing joyfully together.

Synopsis: "Joan is a little girl who believes in fairies, and when the gardener tells her that the best place to find them is among the wild flowers, she goes in search of them. Tinkler the elf acts as guide, and Joan makes some wonderful discoveries."
Are you a competitive or more a meditative solver?

You can adjust whether to have the timer show or not when you solve your puzzles. You'll find how to in our puzzle player guide.