Azurite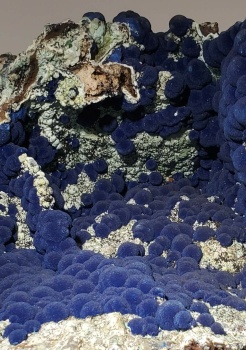 Why are you reporting this puzzle?
Harvard campus is home to several small but first rate museums. A visit to the Glass Flowers has long been on my list of things to see, so on a recent trip to Boston, the Museum of Natural History was my first stop. The Mineralogical and Geological Museum is on the same floor and right next door to the flowers. I could have easily spent 2 or 3 hours in this room, but, since I had already used up a couple of hours of my husband's short touring allotment, I practically ran through the displays. I am creating puzzles from four of my favorite pictures. Hope you enjoy these amazing rocks.
How do you follow a puzzle creator?

Do you have one or more jigsaw puzzle creators on Jigidi whose puzzles you are always looking for? Then you might consider "following" them, which means you'll receive a notification upon their newest postings.