Bento Box
Bento Box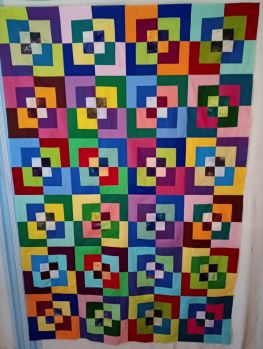 Why are you reporting this puzzle?
This is a quilt top I made for an organization called Victoria's Quilts. Quilting kept my sane while we were all encouraged to stay home the last couple of months.

Who is Victoria?
Fabric pieces being sewn together Victoria Ann Morrison was a wife, mother, grandmother, and the best friend of Deborah Rogers, the founder of Victoria's Quilts in the United States. She was also a cancer patient. One of the comments she made about her chemotherapy was that she got cold while she was laying in the treatment facility waiting for the day's infusion to be over. After Victoria's death, and while seeking comfort from the scriptures and prayer, Deborah was led to Joshua 1:9 which states:

"Be strong and of good courage;
do not be afraid nor dismayed,
for the Lord your God is with you,
wherever you go."

Deborah remembered Victoria's comment about being cold and wanted to do something. Since Victoria made so many quilts in her life time, Deb thought that this would be a good place to start. Victoria took the fear out of quilting by saying, "People aren't perfect – why do quilts have to be?" Out of this grew Victoria's Quilts.

This organization started in the U.S. but I imagine any where in the world you find quilter's you'll find a chapter of Victoria's Quilts. So if a family member or friend is receiving chemo you can request a quilt for them just Google Victoria's Quilts and you'll find a chapter in your area.