Beddgelert North Wales - "Gelert's Grave"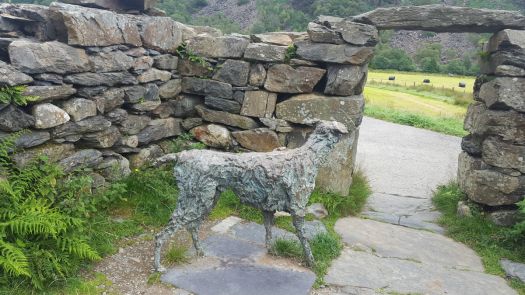 Why are you reporting this puzzle?
Statue of "Gelert, the dog of Prince Llywelyn of Gwynedd".

First we learned the very sad story of Gelert. One day Prince Llywelyn returned from hunting to find Gelert and his baby prince covered in blood. Thinking the baby was dead, a furious Llywelyn struck out at Gelert and killed him. Llywelyn then saw the bloody body of a dead wolf lying on the floor, and the baby started to cry. It then dawned on Llywelyn that far from attacking the baby, Gelert had saved his life. Mortified, Llewellyn built an elaborate grave for Gelert to honour his bravery.

Then we learnt that the whole legend was a load of hogwash invented by a Victorian hotel keeper who erected the statue to promote tourism! The village is actually named after St Gelert, a 7th century hermit who lived in a nearby cave.