Montmorency Falls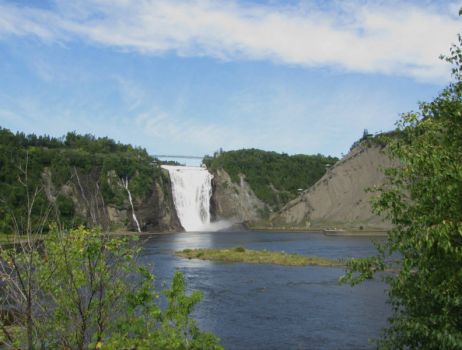 Why are you reporting this puzzle?
The Montmorency Falls (French: Chute Montmorency) is a large waterfall on the Montmorency River in Quebec, Canada.

The falls are located on the boundary between the borough of Beauport, and Boischatel, about 12 km (7.5 mi) from the heart of old Quebec City. The area surrounding the falls is protected within the Montmorency Falls Park (French: Parc de la Chute-Montmorency). The falls are at the mouth of the Montmorency River where it drops over the cliff shore into the Saint Lawrence River, opposite the western end of the Île d'Orleans. The waterfalls are 83 m (272') tall, a full 30 m (99') higher than Niagara Falls.

There are staircases that allow visitors to view the falls from several different perspectives. A suspension bridge over the crest of the falls provides access to both sides of the park. There is also an aerial tram (Funitel) that carries passengers between the base and the top of the falls. In the summer the park hosts an international fireworks competition with the falls as a backdrop.

https://en.wikipedia.org/wiki/Montmorency_Falls
How do you follow a puzzle?

When you follow a puzzle, it means you receive notifications about new comments on the puzzle.