Fanjingshan, China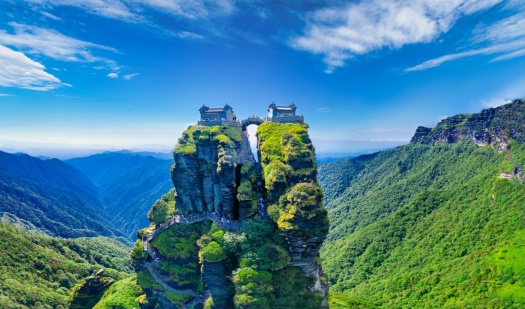 Why are you reporting this puzzle?
In Today's Daily Jigsaw Puzzle, we visit
Mount Fanjing
in Guizhou province in China. It is a place of worship within Chinese Buddhism, but outside of religion, the site is also beloved for being such a particular looking peak, and it is a UNESCO World Heritage Site.
With an elevation of (at the highest) 2,570 metres, Mount Fanjing is the highest peak of the Wuling Mountains in southeastern China. As you can see in the puzzle, it is possible to visit the temple at the top – the Fanjingshan Temple.
The surrounding Fanjingshan National Nature Reserve was established in 1978, and it became a UNESCO Biosphere Reserve in 1986. The reserve covers an area of 567 km2 and is a conservation area for primitive vegetation of the mid-sub-tropic alpine region of eastern China. Now, if you are lucky enough to visit this spot on earth, you just may come across (the sweet-looking and rare)
Guizhou golden monkey
, which is endemic to the area. Or
the Chinese giant salamander
(this one does sound alarming, but we vote for glorious ♥).