Marlon Brando and Bob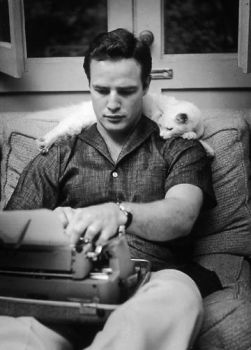 Why are you reporting this puzzle?
This is the original photo that someone has messed with to make it look like it is Elvis with a cat. They reversed the photo and put Elvis's head on Marlon's body. I guess people are desperate to find a pic of Elvis with a cat (including me), but making a fake one is just wrong! There is a story out there that Elvis found a stray kitten/cat on his property about the time he was filming "Loving You" (1957), and took care of it. He supposedly named it Wendell after the actor, Wendell Corey, in the film. So if someone took a picture of that event... Keeping looking, peeps!