"Remembering a Brave New World"
"Remembering a Brave New World"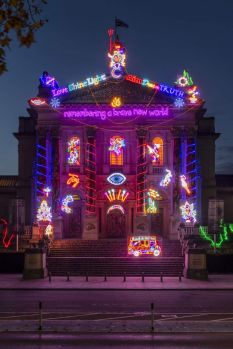 Why are you reporting this puzzle?
All images © Chila Kumari Singh Burman, courtesy of Tate Britain

"A new installation by artist Chila Kumari Singh Burman masks the stately columns and ornate flourishes of Tate Britain's facade, enveloping the London museum in a blanket of neon. In "Remembering a Brave New World," technicolor symbols, pop culture references, and religious iconography transform the neoclassical structure into an illuminated space for celebration. The public artwork was revealed on December 14 to coincide with the start of Diwali, the five-day Indian festival of lights, and casts a kaleidoscopic glow on the surrounding area.

"The eclectic collection draws on Punjabi Liverpudlian artist's own life and family history, which manifests in pieces like the multi-colored ice cream truck. After moving to England, her father purchased one of the vehicles, an experience that imprinted her childhood."