Susan Morse (daughter of Samuel Morse) talking to her boyfriend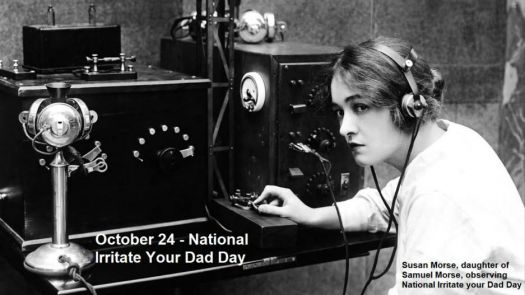 Why are you reporting this puzzle?
Lest we forget the importance of October 24 and the impact it made on all of our lives....

October 24, 1946 - First Photo of Earth taken from Space - Taken from an altitude of 65 miles above Earth from a motion picture camera mounted on George Jetson's aerocar with a transparent bubble top.

October 24, 1939 - The first nylon stockings go on sale in Wilmington, Delaware. Stronger and cheaper than ski masks, they were an instant hit with burglars and thieves that robbed convenience stores.

October 24, 1933 - The notorious criminal John Dillinger robs a bank in Indiana. John Dillinger saw a farmer at a teller with cash. Dillinger asked if the cash was his or the bank's money. The farmer replied it was his life savings. Dillinger replied, "Keep it. We only want the Bank's money." John Dillinger goes on to star in Hollywood's first "Robin Hood" movie

Born October 24, 1838 - Annie Edson Taylor, on her 63rd birthday was first person to go over Niagara Falls in a barrel and survive (1901). Annie Taylor's barrel was the first whisky barrel fitted with front seat airbags, adaptive headlights and head restraints as per the National Barrel Safety Administration (NBSA). Your tax dollars at work...

October 24, 1861 - The third U.S. Transcontinental Telegraph message is sent, from San Francisco to Washington D.C. The first two telegraph messages resulted in a busy signal. October 25, 1861, Samuel Morse's teen aged daughter is put on restriction for two weeks... no TV, no cell phone and no TELEGRAPH!

Born October 24, 1788 Sarah Josepha Hale - After eating lamb chops at the Slaughtered Lamb Pub, Sarah Josepha Hale wrote "Mary Had a Little Lamb" Sarah Josepha Hale went on to developed a Traditional Mint Sauce to complement baked lamb

Born October 24, 1632 Anton van Leeuwenhoek - Dutch biologist, Father of Microscopy. Using a single lens microscope he became the first person to see "animalcules" the first known description of bacteria. I only mention Anton van Leeuwenhoek because I like the name "animalcules". You can expect me to use "animalcules" in future comments

Died October 24, 1985 László Biró - Hungarian-Argentine inventor. He patented the first successful ballpoint pen (U.S. Patent 2390636A) making the use of goose and swan "quill" pens obsolete. Early the following year, the Waterfowl Of America Association named László Biró as their "Man of the Year" for preventing 1000's of geese and swans from going bald

Died October 24, 1601 Tycho Brahe - Danish nobleman, astronomer. Known for accurate and comprehensive astronomical and planetary observations and blah, blah, blah. The only interesting thing in Tycho Brahe's life was that in 1566, Brahe lost part of his nose in a sword duel and wore a metal prosthetic nose the rest of his life. Tycho Brahe is credited for starting the fashion trend of wearing a zucchini squash in the middle of your face. The trend of wearing a zucchini squash in the middle of your face was quickly replaced by teenagers wearing raggedy jeans, pants pulled down below their butts and brightly colored hair worn in 8" spikes... oh how I long for the good old days...

May October 24 rest in peace....