Wishin' I was Fishin' Vintage Fruit Crate Labels Depicting Fish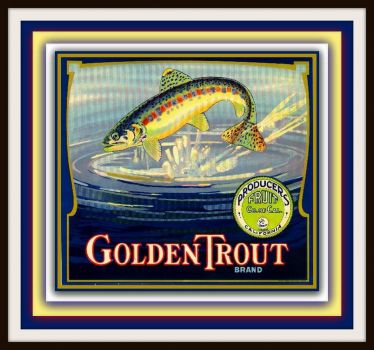 Why are you reporting this puzzle?
I just love this vintage artwork of a trout on a vintage fruit crate label circa 1940.

Good afternoon, all my Jigidi Friends around this wonderful world.

For those of you who follow me on facebook, you know I have always loved to fish, so today's old fruit crate labels with fish on them are very meaningful to me.

When my husband of over 50 years asked me to be his girl back in 1968, he skipped giving me his class ring or letter-man sweater. Instead he made a date to take me on a picnic and go for an all day Jeep ride. Bud arrived at the crack of dawn and presented me with a shiny, new Eagle Claw fishing pole and a Mitchell 300 spinning reel. He knew how I loved to fish the mountain creeks with my father. At 15 Bud became my new fishing partner, and we fished many beautiful mountain streams in El Dorado County, California in our youth, and after we were married we saved to buy a boat and began lake fishing.

Today, with cancer having gone into my bones, the boat is too painful to ride in, but we found a wonderful Idaho State owned pond that is completely handicap accessible, complete with a wonderful ramp to a dock over the pond -- just for those of us with a blue handicap license. It is a thrill to me to still be able to go fishing, I just roll my walker out on the dock, right up to the safety rail and fish all day long. [A very clean public restroom can be easily reached on a cement walk from the dock all the way across the roadway - so nice not to stumble in the rocky, dirt road.]
It is called Oster Ponds, there are five others in the same area, two of them also handicap accessible. The land is part of the Idaho State Fish Hatchery and they stock the lake every Thursday morning with about 400 fish between the five ponds, several varieties, including a beautiful yellow [not to be confused with golden] trout. My husband and two of my grandchildren and son have all caught one. So far the things have alluded me. It is now at the top of my bucket-list to catch one of them.

Never seen a yellow trout? Take a look at some on this facebook page https://www.facebook.com/RainbowFallsMT/posts/the-yellow-rainbow-trout-is-a-mutation-of-a-rainbow-trout-instead-of-the-normal-/3605262209492431/
Are you curious about how do we review content on Jigidi?

At Jigidi, we celebrate what connects us and steer clear of divisive content because how we meet each other matters. It forms us. When we review the content, we use four 'lenses' and look for what the image or comment is most.