Mount Sunflower - Kansas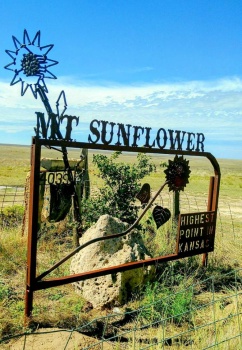 Why are you reporting this puzzle?
At an elevation of 4039 feet, Mt. Sunflower is the highest natural point in the state of Kansas. The "summit" site is located off a dirt road (pretty much in the middle of nowhere) and is marked by a sunflower sculpture made from railroad spikes, a picnic table and a registration book for visitors to sign. Besides being nicknamed the Sunflower State, the Kansas state flower is the sunflower.