Pre-Raphaelite Art - Isabella and the Pot of Basil by William Holman Hunt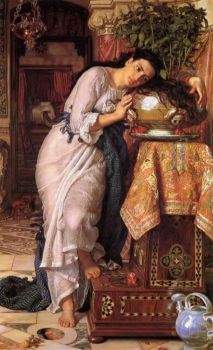 Why are you reporting this puzzle?
Hunt began the painting - a depiction of the heroine from the poem "Isabella, or the Pot of Basil" by John Keats - in Florence, Italy, 1866, while travelling with his pregnant wife, Fanny.

The poem by Keats is adapted from a story by 14th-century Italian author Giovanni Boccaccio.

It tells the tale of Isabella, whose family intend to marry her off to someone rich. Instead, she falls in love with Lorenzo, a lowly employee of Isabella's brothers'. When the brothers' find out about the lovers, they murder+bury Lorenzo. Isabella is led to believe Lorenzo has gone overseas, until his ghost comes to her in a dream+tells her the truth+where he's buried. Isabella exhumes his body, takes his severed head+keeps it buried in a pot of basil, hiding it from her brothers.

Here, Isabella, sleepless in her grief, is draped over her altar to Lorenzo, holding the pot in which her lovers head is interred, mourning.

As sad as the tale of Isabella is, the true tragedy is that after giving birth, Hunt's wife, Fanny died from fever in December 1866. Hunt worked steadily on the painting, turning it into a memorial to his wife, whose features he used for Isabella. A truthful expression of love and bereavement.

Completed January 1868, it's a beautiful oil painting - approximately 6ft by 3.5ft. Having been on tour this past year, at Tate Britain, London + National Gallery in Washington, USA, she's back home at the Laing Art Gallery, Newcastle-upon-Tyne, where she's resided for over 20 years.