Paul Chocarne-Moreau, "A Bad Encounter"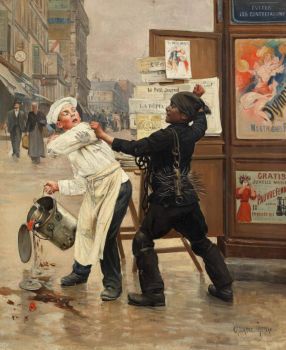 Why are you reporting this puzzle?
Paul Chocarne-Moreau (1855-1930). Paul Chocarne was born in a family of artists. His father was a painting teacher and he was a nephew of Father Bernard Chocarne and Father Victor Chocarne , as well as the cousin of the sculptors Mathurin , Hippolyte and Auguste Moreau .

Paul Chocarne entered the École des Beaux-Arts in Paris , where he was successively the pupil of Tony Robert-Fleury and William Bouguereau. He began at the Salon of French artists in 1882 and exhibited there quite regularly from that date under the name of Paul Chocarne-Moreau. In 1900 he obtained a medal of 2 E class and pass in pre-season. He was named Knight of the Legion of Honor in 1906.

Chocarne-Moreau specializes in genre painting . It represents sketches of Parisian life, the heroes of which are generally facetious young boys from working-class backgrounds: young apprentice pastry chefs, chimney sweeps, altar boys, schoolchildren. Witness of his time, he painted works such as On the Barricade which he exhibited at the Salon of 1909. We could see in him a precursor of Norman Rockwell.