I am starting my diet Today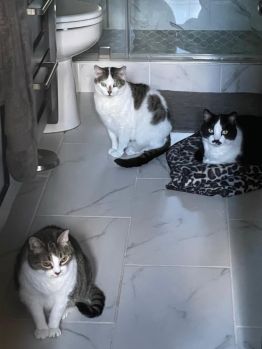 Why are you reporting this puzzle?
Mama, Patches and Crusty (on the bed) having had it too good. They are inside cats, Mama was a feral and the other two were only outside as newborns. They are very happy with indoor plumbing and they get fed regularly. Maybe too regularly, I will let my husband know that when they cry to him he has to ignore them and not give them more food.
Have you solved today's jigsaw puzzle?

Every day, we present you with a jigsaw puzzle that we curate for you. You will find it on our daily jigsaw puzzle page or follow us on Facebook to get it in your news feed. Solve it and share it with friends and family to give them a daily beautiful and mindful brain workout ♥