My Current Cat Furbabies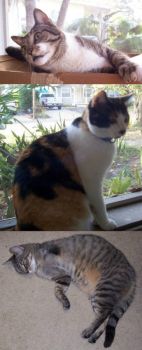 Why are you reporting this puzzle?
From top to bottom (all are indoor only)
TIGGER- 4 years, 18lbs, has a collapsed lung & great personality. The vet calls him a
"Miracle Cat," I call him my best buddy.
PITA - 4 years, 12 lbs, meek and a wuss except at the vet's where she's unrecognizable - a veritable, if small, ferocious lion.
MOOCH - unknown age - maybe 7 or 8 years, 7 lbs, recently acquired "neighborhood cat" that required an amputation and who is trying her best to be "Alpha Cat!"