Merry Christmas Tree Broaches and Thank You Letter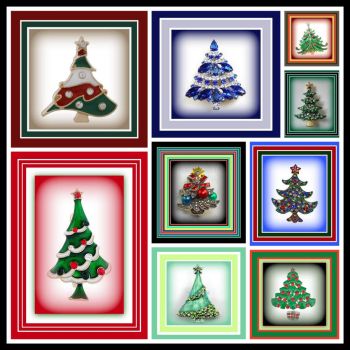 Why are you reporting this puzzle?
Good morning and Merry Christmas Jigidi Friends all over the world. Thank you for being an important part of my life through the years.

I have loved solving all the creative and interesting puzzles here. I have really enjoyed creating my jeweled collages for you, and most of all I have enjoyed making friends with so many people from so many parts of the world. I have enjoyed sharing weather reports, cultural differences, words, foods and customs. It has been a safe, happy place for me.

I thought it was time to let all my friends now I am quite "not well" and life is getting hard as it winds down. I am in end of life cancer. I haven't battled it or died from it, I have lived, and I mean lived through it. I have chosen not to share my cancer through the years with friends or family because I chose not to let it define me or who I am.

I have to leave home and the computer I am taking with me doesn't have my puzzle making program on it and Picasa is unavailable for download anymore, so I can't make new ones. I am going to transfer some puzzles I already have done and will try to post them after the first of the new year when I am settled in my "new home."

I will continue to post my simple puzzles on my Pinknblack puzzle page, as they are simple, non-collage puzzles and I have hundreds all ready to post.

Thank you for all the wonderful posts through the years, I have enjoyed and appreciated each and everyone. Thank you for the hundreds and hundreds of hours of puzzle fun and friendship.

Merry Christmas and Love to All, Grandma Pegs.