This is *my* space!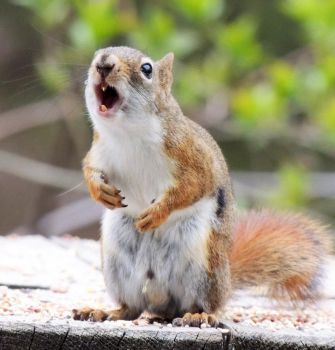 Why are you reporting this puzzle?
When I was doing theater, there was an exercise where the cast stood around in a circle, and the director would choose someone to step into the center of the circle and declare, "This is my space!" The intent was to understand that the stage in fact belonged to the actors, and that they should behave as if that were so. It was remarkably hard to do convincingly - only one person I ever saw attempt it was totally successful; she walked into the center, looked around, said that - and not a person in the room doubted or questioned her! [I've never succeeded in parsing just how she did it.]

Red squirrels have a extended harsh "chirring" call, which I presume they use for territorial declaration. This one has a particular vantage point he typically uses to tell the other red squirrels in the area (I've seen at least 3 others) that the patio is *his*. Here, apparently spurred on by the buffet at his feet, he made the call from the top of the wire drum, right at me!