Help Mate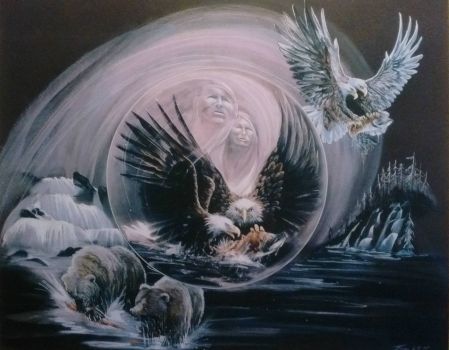 Why are you reporting this puzzle?
This is a photo of a painting by Carol Bordough (sp) of Trinidad, Colorado. It is named "Help Mate." Carol told me the story as conveyed to her by a fisherman from Alaska. The fisherman told her he was out fishing along a river in Alaska when across the river he spotted a Bald Eagle struggling to pull a large Salmon out of the water. After a short struggle the Eagle let out a cry and quickly it's mate flew down, clutched the Salmon along side it's mate and together they pulled the Salmon out and flew away. It is well known that Bald Eagles mate for life, therefore the name "Help Mate"
Are you curious about how do we review content on Jigidi?

At Jigidi, we celebrate what connects us and steer clear of divisive content because how we meet each other matters. It forms us. When we review the content, we use four 'lenses' and look for what the image or comment is most.