"Old Man And Cat"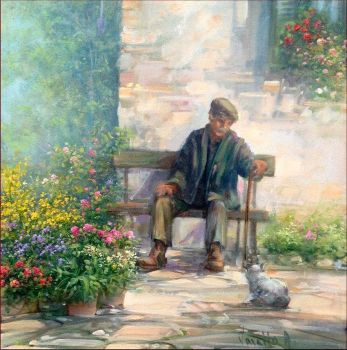 Why are you reporting this puzzle?
Born in Talsamo (Taranto province, Southern Italy) and a livornese adoptee, Antonietta Varallo approaches painting when she was just fifteen. She, for one year, attended at the Free Acade my "Trossi-Uberti" directed by Voltolino Fontani, then the maestro Luciano Torsi has been her guide up to her artistic maturity after eighteen years of teaching.
On 1976 she won the first prize "Chimera" held in the city of Arezzo (Tuscany). Nowadays
she's still a honorary professor of the Academy of "Machiavello" in Florence as well as in the Academy "G.Marconi" in Bologna. The pictorial anthology of Antonietta Varallo is essentially and mostly determined by nature: her gardens full of flowers and the enchanted landscape of Tuscany, the triumphant moltitude of colours is the proof of "how"this artist (imaginative and highly talented) is able to surprise and evoke some unique and forgotten feelings.