Our cat trying to steal cheese (A.K.A. an Unexpected Art Lesson)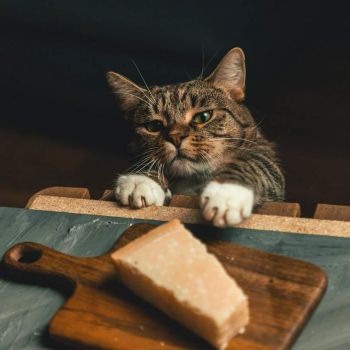 Why are you reporting this puzzle?
Posted by Loptimist in Reddit's subcategory "Pet_Renaissance: the subreddit for well-composed photos of your pets that look like they belong in an art gallery."

Cats appear often in these photos, as you can imagine, with titles such as "The Sitting of the Cat," "Dreaming of the Sistine Chapel's lesser know Creation of Cat," and "Saint Isabella the Fiercely Protective."

There is another subcategory, "AccidentalRenaissance," the subreddit that showcases photographs that inadvertently resemble well-composed, Renaissance style art. This sub gained fame in The Washington Post a few days ago, in an article "Many Trump-era photos look like dramatic old paintings. That's no 'accident.'" (Kelsey Ables, Jan. 16, 2021)

https://www.washingtonpost.com/entertainment/accidental-renaissance-reddit-images/2021/01/13/c4aa48f8-53c8-11eb-a931-5b162d0d033d_story.html?utm_source=reddit.com

A Commenter gave this photo of the cat a fakey Renaissance re-title:

"Swipe of the Gouda | 1526 AD | Oil on canvas

A French tabby domiciled in Marseilles makes a reach for the wedge amidst a dark and earthy backdrop."

(Another jokester said, "That's parmesan, you filthy casual")


Don't let anyone bust your chops today! You'll be able to show you're ready for "Jeopardy" - as long as you remember that you read something about the Renaissance, lol.

Just think of, say, "Lust, Longing and Love in the Renaissance" [universal themes]

or

Cat = Caravaggio

The marvellous Italian painter (1571–1610) Caravaggio, who lived a passionate and violent life, employed:

a) - close physical observation [the cat is close to us, the cheese is closer];

b) - with a dramatic use of chiaroscuro. By darkening shadows and transfixing subjects in bright shafts of light, he made them dominant stylistic elements of his technique. Just look at the Lovecraftian darkness behind the cat, as impenetrable as the prayers of the cat's white, supplicant paws.

c) - Caravaggio vividly expressed crucial moments and scenes, often featuring violent struggles, torture, and death.

He sure did. You don't think the next 5 minutes are going to be easy to watch, do you??


The name's Kelleghan. You can hire me for all your academic gobbledygook needs, any time [waving a pistol to dispel the smoke].
What are the symbols on the jigsaw puzzles?

When you browse jigsaw puzzles on Jigidi, you may notice different symbols on the puzzles. One symbol lets you bookmark the puzzle for later, and other symbols tell you about any previous activity you may have on the puzzle.