Gravestone Of Cornelius Bugosi-Keats......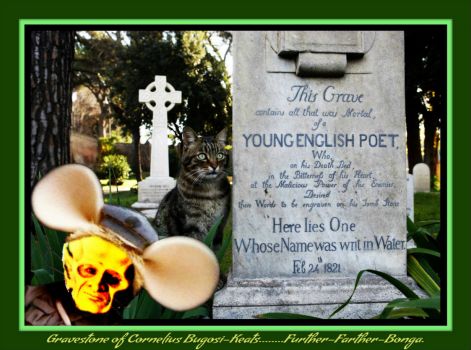 Why are you reporting this puzzle?
The picture for today comes from Further-Farther-Bonga, where I have arrived on a mission of goodwill, accompanied by sweetlittleoldgranny, unclebluebottle, and Kaleidoboy (Hippolytus is still here)........
And it proves, beyond reasonable doubt, that we are not the first Bugosis to venture into this far-flung land........We knew that the great poet, Cornelius Bugosi-Keats, had travelled widely in his search of recognition, but until now were unaware of his final place of rest......
I have left a little jar of dessicated tadpoles by the grave as a sign of respect for the great poet.......
What is the filter for?

Some puzzles are shown behind a filter. These puzzles are within our guidelines but still is material of which some will take great offence. Read more about the reasons and workings of the content filter and how you can set your account up to either see or not see puzzles that are shown behind a filter.