Ferdinand Georg Waldmüller, "Return from the Church Fair", 1859
Ferdinand Georg Waldmüller, "Return from the Church Fair", 1859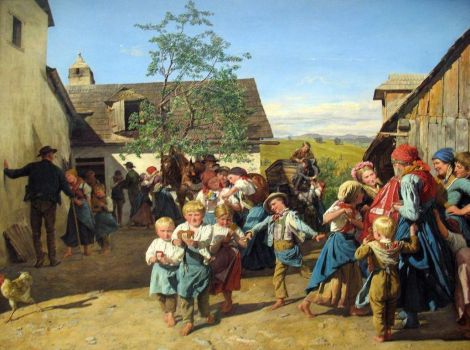 Why are you reporting this puzzle?
Ferdinand Georg Waldmüller (1793-1865) was an Austrian painter and writer. Waldmüller was one of the most important Austrian painters of the Biedermeier period

In 1807 Waldmüller attended the Academy of Fine Arts Vienna. He lived in Bratislava and, in 1811, he worked as a teacher of arts for the children of Count Gyulay in Croatia. He returned to the Academy of Vienna and studied portrait painting. In 1814 he married the singer Katharina Weidner, and subsequently went on tour with her, working as a set designer.

In 1817 he returned to Vienna and spent much time copying the works of old masters and painting portraits, genre subjects, and still-life. In 1823 he made a portrait of Ludwig van Beethoven. Waldmüller later became interested in nature and started painting landscapes, which in their loving attention to detail illustrate Waldmuller's belief that the close study of nature should be the basis of painting. These are his most notable works, in which his sense of colour and knowledge of nature helped him to achieve masterly skill.

In 1819 he became professor at the Academy of Fine Arts Vienna, but was in disputes with the Viennese establishment, most notably for his comments on the system of the academy, where he wanted to establish a focus of the study on nature. His views were in opposition to the official doctrines of ideal art promulgated by the Vienna Academy, and after he had published his works on art education, he was forced to retire in 1857. By 1863 he had been accepted back into the art circles of Vienna, and was knighted in 1865.