"WHO AM I?" GAME 1586 (result)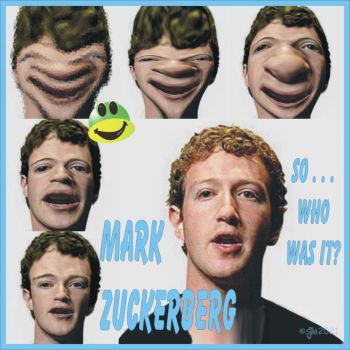 Why are you reporting this puzzle?
The correct answer is ***** MARK ZUCKERBERG *****
Mark Zuckerberg is the internet 'whizz kid' and philanthropist best known for being the co-creator of and launching "Facebook", on Feb 4, 2004, the world's most popular social network. He remains the company's chief executive officer and president holding a 13% stake. In Aug 2016 he started selling shares to fund this philanthropy projects.
In 2007 he was cited as being the world's youngest self-made billionaire at the ripe old age of 23. His net worth as of Sept 2021 is estimated to be in excess of $120 billion with a personal wealth estimated to be more than $60 billion.

BIRTH NAME: Mark Elliot Zuckerberg
PROFESSIONALLY KNOWN AS: Mark Zuckerberg

BORN: May 14, 1984 in White Plains, New York
He is the second of four children born to dentist Edward Zuckerberg and his wife, psychiatrist Karen Zuckerberg (née Kempner). Born in White Plains he was raised in the nearby village of Dobbs Ferry with his three sisters, Randi, Donna, and Arielle, were raised in Dobbs Ferry, New York. He became interested in computing aged around 12. Mainly self taught "C++ For Dummies" was his first introduction to formal computer programming and aided by discussions with friends and his father he learned some of the rudiments of computer programming. His father hired a software developer David Newman to come to the house once a week and give Mark private lessons when he realised his son had an aptitude for programming.

EDUCATION . . .
Ardsley High School, NY until his junior year, when he transferred to Phillips Exeter Academy, New Hampshire, where he graduated with a major in classics in 2002. (Private education)
He also took graduate courses at Mercy College, Dobbs Ferry (private education) while still at school
Harvard University Sep 2002- Jun 2004 studying psychology and computer science. He dropped out to concentrate on "Facebook"

CAREER: Aged 13 he created "ZuckNet" allowing the computers in his home and his father's dental office to communicate. He also created several games based on board games such as Monopoly and Risk.
While at Exeter he created "Synapse Media Player" as his senior project. He posted it on-line and was contacted by both Microsoft and AOL who offered to buy it for for $1 million and offered him a job as a developer. He refused both offers preferring to enrol at Harvard University and continue his education.

At Harvard he created a couple of programs aimed at the students, "Course Match" to help them select classes and help them form study groups and "Facemash" which proved controversial. It was designed to find out who was the most attractive person on campus but, although successful enough to play havoc with the university's network there were many complaints about it being offensive and that people's photos were being used without permission. It was taken down and Zuckerberg was put on probation.
Three of his fellow students, Divya Narendra, and twins Cameron and Tyler Winklevoss had an idea for a social networking and dating site for Harvard students they called "Harvard Connection" and approaced Zuckerberg. He started working with them for a brief period but he left the project to start on his own idea with friends Eduardo Saverin, Andrew McCollum, Dustin Moskovitz, and Chris Hughes and created "The Facebook" (later known as "Facebook") which launched on Feb 4, 2004 using the 'familiar name' used by students at Exeter for their directory. The group of friends ran the site out of their dorm at Harvard until June 2004 when Zuckerberg dropped out of uni to concentrate on "Facebook" in business premises in Palo Alto, California. Although only open to Ivy League students by the end of 2004 there were over 1 million users. Due to it's popularity "Facebook" received funding to expand the business allowing access to other colleges, high schools and international schools.

I was going to say . . . "and the rest is history" but must point out that it wasn't all plain sailing. Remember those students who came up with the idea of "Harvard Connection"? In 2007 they accused Zuckerberg of stealing their idea and sued him for their business losses. A settlement of $65 million made up of cash and shares was agreed in 2008. There have been several other claims, counter claims and controversies with "Facebook" but it has grown into one of the largest social media sites and technology companies and now owns "Instagram", "WhatsApp" and "Oculus" and also has it's finger in the pies of several other products and services.

Mark Zuckerberg is currently president and chief executive officer of Facebook and works at the company's office in Menlo Park, California.
The birth of Facebook was portrayed in the 2010 film "The Social Network".


MARRIAGE: Zuckerberg met medical student Priscilla Chan in his second year at Harvard. The couple started living together in late 2010 and married on May 19, 2012. They have two children, Maxima Chan Zuckerberg (Dec 1, 2015) and August Chan Zuckerberg (Aug 28, 2017).

THE CHAIN LINK to Howie Mandel . . . COLOURBLIND
A quick and easy explanation here . . . both Mandel and Zuckerberg are colourblind.

. . . and the winner is LADYBLUE who gave the correct answer on the 12th Oct 2021 @15:08 . . . pic #2

Happy Dance . . .
https://www.youtube.com/watch?v=52Dmm6LE7WQ

*** AS WE HAVE A WINNER THIS GAME IS NOW CLOSED AND A NEW GAME HAS BEEN POSTED. IF YOU CLICK ON MY NAME BELOW IT WILL TAKE YOU TO MY PROFILE PAGE WHERE YOU WILL FIND A LINK TO THE CURRENT GAME . . . 🐸

Here is the full series of pictures together with the original image. Please note that the original photo used is freely available on several internet sites and therefore assumed to be in the public domain and is used under "Fair Usage" rights (the original image having been transformed/altered and is not being used for the purpose of profit). Any copyright infringement is totally unintentional.
All twangs (ie distortions/morphs/alterations etc) are down to me, my PC and some ancient software.