Different Species and Subspecies of Zebra
Different Species and Subspecies of Zebra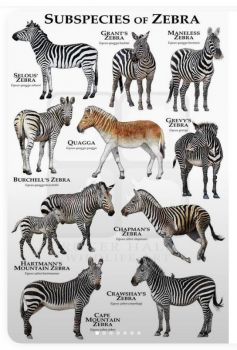 Why are you reporting this puzzle?
Grevy's is the largest.

Hartman's Mountain is the smallest. They're the ones I used to work with.

The Quagga is technically extinct, but since it was a descendant and subspecies of Burchell's, Burchell's individuals still have the genes that created the Quagga. Scientists are now selecting those individuals among the Burchell's herds that have the most Quagga-like markings, and breeding them together. They're on their 3rd or 4th generation now, and are producing individuals that are starting to look like the Quagga.