Ojos Locos Sports Cantina y Casino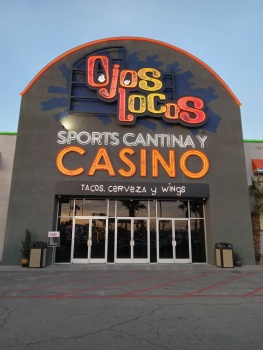 Why are you reporting this puzzle?
Ojos Locos was founded in 2010, opening their first location in Dallas, Texas. The concept was built to cater to the Latino, bringing you a comfortable laid-back sports cantina, where you can sit back and relax after a hard day's work, watch your favorite team play, party with friends, dine with family and enjoy outgoing and friendly service by one of their chicas coquetas y bonitas.

¿Qué es Ojos Locos? Ojos Locos means Crazy Eyes in English. When you step in, you'll see state-of-the-art wall-to-wall HD TV's broadcasting deportes all day. They offer delicious, made-from-scratch Mexican comida, ice-cold 29º cerveza and crazy drinks to keep you coming back for more. There are currently 26 locations in four states across the country.

This establishment was recently renovated and rebranded as an Ojos Locos, so the wife and I went there to check out the food. We enjoyed our meal, and the place was really packed.

I took this photograph on 10 February 2023.