INDIA 2016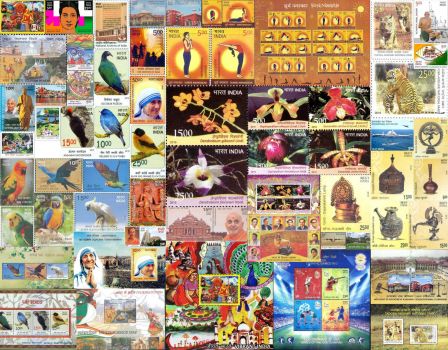 Why are you reporting this puzzle?
Birds and yoga asanas feature in these stamps so I'll share some info on both. India has over 1 250 species of spectacular birds, which have been studied intensively over the past hundred and fifty years. It is particularly rich in pheasants, quails, partridges and spurfowl, along with the iconic Indian jungle fowl, the forbears of modern chickens. There are also many species of pigeons and doves, including the Mountain Imperial Pigeon that was named by Raffles back in 1822, and the gorgeous orange breasted Green Pigeon. There are also the Coucals and Cuckoos, Plovers and Lapwings, as well as many raptors such as the Yellow-Billed Kite which is the first summer migrant to arrive in South Africa in August/September. It is rich in owls too, and they include my namesake, the very handsome Brown Wood Owl which has startling orange feathers around its eye orbits. Some other striking birds are, of course, the Peacock (if you look back in my puzzles to February 2018 you will find these gorgeous birds featured in a number of puzzles). Mrs Gould's Sunbird is a miniature beauty, the lovely Red Headed Trogon hides in the forests and the stately Sarus Crane with his/her red head reaches 5 ft 9 ins (as tall as me!) is at the top end of birds for size.

is a group of physical, mental, and spiritual practices or disciplines which originated in ancient India. Yoga is one of the six orthodox schools of Hindu philosophical traditions. The term "yoga" in the Western world often denotes a modern form of Hatha yoga, which includes the physical practice of postures called asanas. Yoga gurus from India later introduced yoga to the West, following the success of Swami Vivekananda in the late 19th and early 20th century. On December 1, 2016, yoga was listed by UNESCO as an intangible cultural heritage. In 2014 the UN established 21 June as "International Day of Yoga".

A yogi (sometimes spelled jogi) is a practitioner of yoga. In Hindu mythology, god Shiva and goddess Parvati are depicted as an emblematic yogi–yogini pair. Yogi is technically male, and yoginī is the term used for female practitioners. The term yogini is also used for divine goddesses and enlightened mothers, all revered as aspects of the mother goddess, Devi. A yogi or yogini lives by other voluntary ethical precepts called Yamas and Niyamas which are are recommended activities and habits for healthy living, spiritual enlightenment and liberated state of existence.

Info from Indian Birds, walkthroughindia and wikipedia.