Crickhowell Castle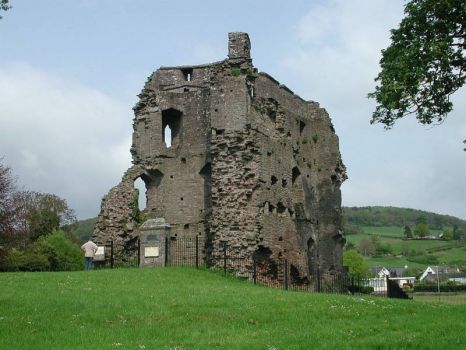 Why are you reporting this puzzle?
From the CADW guidebook

Crickhowell Castle, also known as Alisby's castle, is a conspicuous feature of the small market town and occupies a vantage point with commanding views along the Usk valley. It began life as a motte and bailey with timber buildings, probably built by the Turberville family in the 12th century. In 1272 it was rebuilt in stone, still to the basic plan, by Sir Grimbald Pauncefote, who married Sybil, a Turberville heiress.
During the 14th century the castle was in Mortimer hands but in 1402 it was restored to Sir John Pauncefote, great-grandson of Sir Grimbald, who refortified it by royal command. He was nonetheless unable to resist Owain Glyndwr's forces who left it in ruins. Later in the century it was granted to Sir William Herbert, who became the earl of Pembroke. It seems unlikely that any further work was done; the keep was uninhabitable by the mid-16th century.