🍂🎨 🖌️ Echoes of autumn 🖌️🎨🍂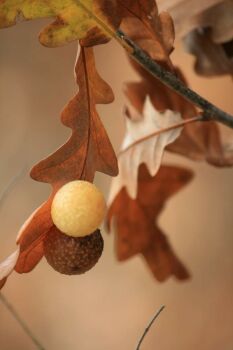 Why are you reporting this puzzle?
Insect galls on oak leaves.
In the spring months, female if insect Cynips quercusfolii lay eggs in oak leaf tissue. Subsequently, spherical shapes, oak balls, develop on the leaves. At first they are lush yellow, later they get a brown color and the consistency of wood. They are a good shelter for the insect larvae that hide in them. Both stages of oak balls are visible in the photo.