"The City"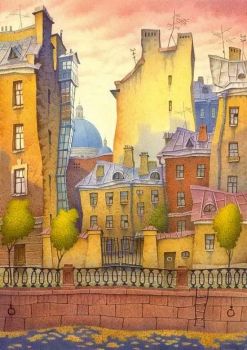 Why are you reporting this puzzle?
Vladimir Kolbasov was born in Leningrad in 1960 the Basics of watercolor techniques began to be taught from 1973 at the municipal art school under the leadership of Antonov G. N.In 1984 he graduated from the Academy of arts of the USSR, the Studio of Professor Fomin I. I.To 1999 he worked in the Committee for city planning and architecture of St.-Petersburg main artist of Vasil Ostrovsky district. In 2002, as an artist participated in the filming of the movie which also played a role. Member Of The Union Of Artists Of Russia. Behind the St. Petersburg artist Vladimir numerous solo exhibitions that took place and tested with the same success, the last was held in 2011, the Exhibition center of the Union of Artists of Russia. Paintings are in private collections in Russia, Germany, Austria, USA, Israel, England, China, Canada, the Czech Republic, Poland.
How do you follow a puzzle?

When you follow a puzzle, it means you receive notifications about new comments on the puzzle.