Branches and Vines Quilt, Ernestine Eberhardt Zaumseil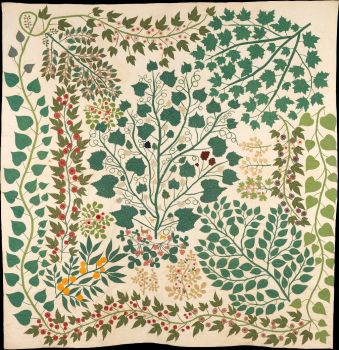 Why are you reporting this puzzle?
Title: Branches and Vines Quilt
Maker: Ernestine Eberhardt Zaumseil (American, 1828–1904)
Date: ca. 1875
Geography: Made in Pekin, Illinois, United States
Culture: American
Medium: Cotton, silk, and wool
Dimensions: 88 × 86 in. (223.5 × 218.4 cm)

From the Met website: "Working in the later years of the nineteenth century, Ernestine Zaumseil created this extraordinary quilt employing the Tree of Life pattern, a design that has been popular for use on bedcovers since the seventeenth century. The first Tree of Life bedcovers, called "palampores", were of Indian origin and featured a stylized tree bearing fantastical fruits and flowers. An Indian palampore makes up the central panel of quilt 2014.263 in the American Wing's collection. In Zaumseil's quilt, the trees and branches are much more realistic, in part because she seems to have traced leaves from actual trees and vines to serve as patterns for her appliquéd designs."