Lift Every Voice and Sing - The Black National Anthem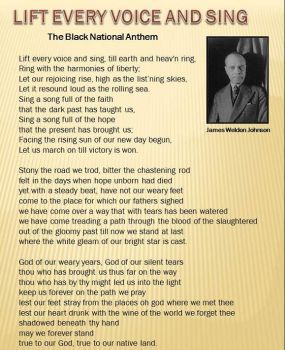 Why are you reporting this puzzle?
https://www.youtube.com/watch?v=LRWaLkl7auA - One thing to read it, another to hear it. ***

"Lift Every Voice and Sing" is The Black National Anthem. It was publicly performed first as a poem as part of a celebration of Lincoln's Birthday on February 12, 1900 by 500 school children at the segregated Stanton School. Its principal, James Weldon Johnson, wrote the words to introduce its honored guest Booker T. Washington. The poem was later set to music by Johnson's brother John in 1905.

Singing this song quickly became a way for African Americans to demonstrate their patriotism and hope for the future. In the calling for earth and heaven to "ring with the harmonies of Liberty," they could speak out subtly against racism and Jim Crow laws—and especially the huge number of lynchings accompanying the rise of the Ku Klux Klan at the turn of the century.

In 1919, the NAACP adopted the song as "The Negro National Anthem." By the 1920s, copies of "Lift Every Voice and Sing" could be found in black churches across the country, often pasted into the hymnals. In 1939, Augusta Savage received a commission from the World's Fair and created a 16-foot plaster sculpture called Lift Ev'ry Voice and Sing. Savage did not have any funds for a bronze cast, or even to move and store it, and it was destroyed by bulldozers at the close of the fair. Wikipedia
Are you curious about how do we review content on Jigidi?

At Jigidi, we celebrate what connects us and steer clear of divisive content because how we meet each other matters. It forms us. When we review the content, we use four 'lenses' and look for what the image or comment is most.