Pie floater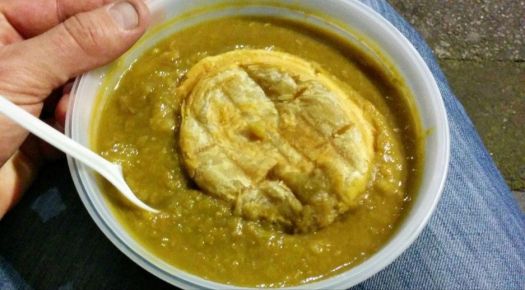 Why are you reporting this puzzle?
'Doesn't that photo of a traditional South Australian pie floater just make your mouth water?

Tender beef chunks in a rich gravy, encased in golden, flaky pastry, up-ended in a steaming hot bowl of hearty, green pea soup. Optional condiments, often applied liberally, include tomato sauce, vinegar or Worcestershire sauce.

OK, I guess you're right: it does look like an unappetising floating blob of mush, half-submerged in a bowl of inedible green gruel.

But believe me when I say that its unsophisticated appearance belies its delectability.

It's also important to understand that the gastronomic satisfaction achieved from devouring a pie floater is directly proportional to the number of alcoholic beverages one has consumed beforehand.

And there's no need for etiquette with pie floaters: tradition dictates that they must be eaten whilst standing up, one hand cradling the bowl close to the mouth, while the other works a spoon-like utensil in a scooping motion. Frontal spillage and a burnt roof of the mouth are the inevitable consequences of partaking of this South Australian delight.'

Check out the info on the website as the pie floater has a fascinating history. Originally sold from a pie cart on the street.