Ptuj - Grand hotel Primus, Slovinsko ....
Ptuj - Grand hotel Primus, Slovinsko ....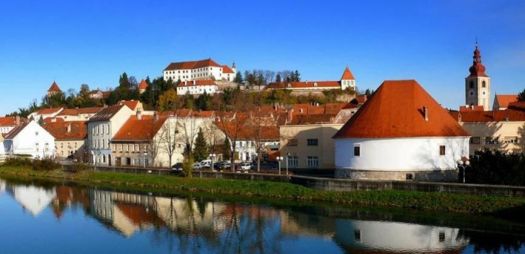 Why are you reporting this puzzle?
.......... One of the most picturesque places in Slovenia is Ptuj, situated on the banks of the River Drava, about 26 kilometers from Maribor. Ptuj is the oldest Slovenian permanently populated town with a history of two thousand years. The dominant feature of the town is the medieval fortified castle (today the museum), the center of the historical center of the town is the Slovinski trg square with the Town Tower. The shelter of building monuments (monastery, churches, etc.) gives Ptuji a unique character. The city's old town is the scene of many festivals, festivals,
The thermal baths are located near the city center - on the opposite bank of Drava. The local spa draws thermal carbon dioxide water from two springs rising from a depth of 1050 to 1590 meters. The thermal spring reaches temperatures of 39 - 54 ° Celsius and is extremely healing especially for the rehabilitation of rheumatic and degenerative diseases. It also has beneficial effects on the locomotive system and neurological diseases. The Terme Ptuj Aquatic Park is located in the spa area, with 12 outdoor and indoor pools incl. water attractions, water slides, etc. The total water area is 4.200 m2. The park is followed by other facilities - playgrounds, volleyball courts, tennis courts, minigolf and camping, apartment buildings, hotels, shops, etc. The golf course is nearby the whole area.
Ptuj is located in the Haloze wine region, right in the city, it is possible to visit the cellars of the Ptujska Klet winery from the 13th century, where tasting tours are organized. In these cellars is the oldest wine in Slovenia, the gold of 1917.
The golf course in Ptuj is one of the best maintained golf courses in Slovenia. The playground is located near the Ptuj thermal bath and is not more than 2 km from the old town center. This is an interestingly structured playground with a large number of water barriers over 50 hectares. Technical information: • 18 holes • 50 hectares .................