Green Apple, Cheese & Chard Baked Omelet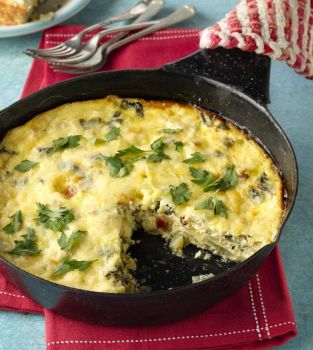 Why are you reporting this puzzle?
Use a skillet with an ovenproof handle, and be careful when setting it out, the handle will be hot. Excellent hot or at room temperature. Reheats well.

1 bunch (5 stalks) chard, stems and leaves separated
Good tasting extra-virgin olive oil
2 medium onions, cut into 1-inch dice
Salt and fresh-ground black pepper
1 large garlic clove, minced
1/4 cup water
1/2 of a large Granny Smith apple, peeled, cored and cut into 1/2-inch dice
5 large eggs
3/4 cup milk
1/8 teaspoon fresh-grated nutmeg
1/8 teaspoon salt
1/8 teaspoon fresh-ground black pepper
1 cup fresh grated Parmigiano-Reggiano, Asiago or Fontinella cheese
1 cup shredded Muenster or Monterey Jack cheese

1. Preheat oven to 350ºF. Chop the chard stems into 1-inch pieces, then chop the leaves the same way. Film a 10-inch skillet (with an ovenproof handle) with oil, and heat over medium-high. Add the onions, chard stems, and a little salt and pepper. Sauté them to a golden brown.
2. Stir in the garlic and chard leaves in 2 batches. As the first batch wilts, add the second. Add the water and stir over medium-high until the leaves look like cooked spinach and the liquid is evaporated. Stir in the apples and remove the pan from the heat.
3. Beat together the eggs, milk, nutmeg, salt, pepper, and 2/3 of each of the cheeses. Pour the mixture over the cooked greens. Sprinkle with the remaining cheeses, cover with foil, and bake for 30 minutes. Uncover and bake 10 to 15 minutes more, or until a knife inserted in the center comes out with only a few bits of creamy egg and cheese clinging to it.
4. Let the omelet stand 5 to 10 minutes before cutting it into wedges.